Ask for Price, Call for Price, Request for Price… only a handful of all current quotation modules available on the Magento 2 marketplace. We understand you might be overwhelmed or confused by all different extension names, but honestly, they all imply the same: they hide prices. There is, however, one combined quotation module in particular that does more than just hiding prices and lets you be fully in control over the price policy of your Magento webshop instead. Take the lead with Cart2Quote and Not2Order.
Reasons to hide your prices
When it comes to pricing strategies, there's an enormous difference between B2C and B2B. Most webshops selling consumer goods publicly display their product prices, in order to sell as fast they can, to whomever they can. B2B companies, however, might have a variety of reasons to hide at least some parts of their prices on their online catalogues.
To begin with, sometimes it's impossible to show a price simply because the price is not known yet. This is the case when products need to be specifically configured and the actual price depends on external factors.
And what, for instance, if the prices of the products you're selling depend on the use of raw materials whose price vary from day to day?
Furthermore, what if none of your competitors are willing to show their product prices upfront and doing so yourself means giving your competitors a headstart?
In B2B, pricing also depends partially on the customers or customer groups you are doing business with. Are your customers part of a long-term selling relationship? Do you offer special volume discounts for large orders? Do you grant a one-time welcome bonus to bring your new customers onboard?
As you can see, in order to apply the right pricing strategy in B2B, one simply needs to start a dialogue first.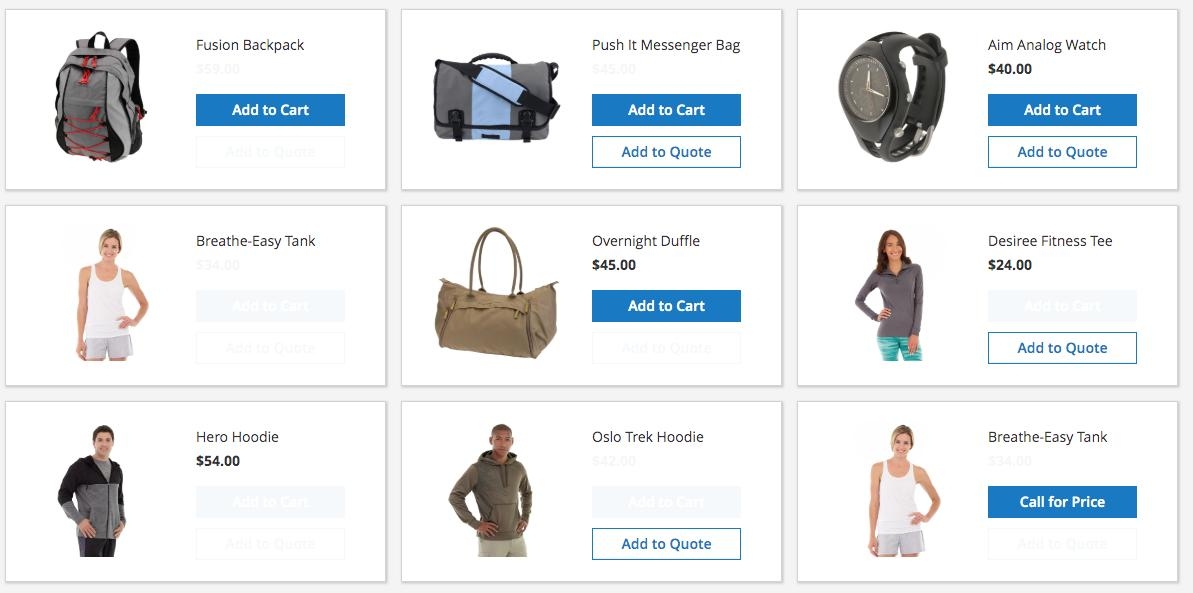 Adjust pricing strategies with Cart2Quote
With Cart2Quote and Not2Order, Cart2Quote's Hiding Prices add-on that comes for free with Cart2Quote Enterprise, you'll be able to apply the right pricing strategy. The beauty of this combined quotation module is that it does a lot more than just hide prices.
It puts the store admin in control whether 'Add to Cart' buttons and Prices should be shown or hidden anywhere in the catalog. You may replace the 'Add to Cart' button with any other button you see fit, such as 'Call for Price', 'Ask for Price' or 'Request for Quote'. Moreover, one can easily specify what page the button links towards, such as a contact page or a web page with additional instructions. You decide.
Alongside these benefits, you can fully manage the visibility of prices and the ordering of individual products in your catalog. You may adjust the price visibility and order function separately for website visitors, registered visitors and specific customers groups. Last but not least, you may apply the method above to an entire store view or a complete website altogether.
In other words: you're fully in control of what and how you display.
Ultimate Magento 2 Ask for Price extension
Combined with Not2Order, Cart2Quote is considered the ultimate Magento 2 Ask for Price extensions. Here's why:
Disable 'Add to Cart' buttons per product or replace them with any other button;
Hide prices in Magento 2 for individual products;
Optionally show prices for registered customers;
You'll receive 12 months of free updates;
Hide or show prices for customers groups.
Want to have a look first?
Our free demo shows how the built-in pricing features reveal tailor-made quotations for visitors of and clients on your website. Enjoy the experience of superior quotation with tailor-made pricing for your clients!
Rather schedule a 30 minutes walkthrough?