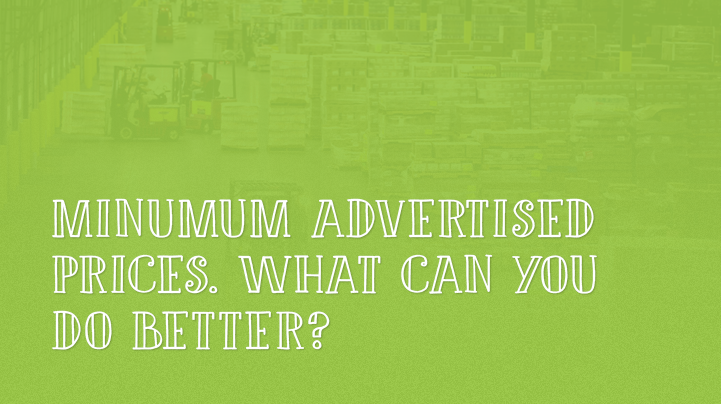 Handle MAP better
A growing number of webshop owners have been confronted with strict Minimum Advertised Prices Policies from their suppliers. In short, these Minimum Advertised Prices (from here on "MAP") are a suppliers' tool to make sure all their resellers show the same prices. But there's more to it. In fact, many webshop owners (resellers) would call it a huge problem.
Now what's the problem with MAP?
There is a big gap between the two sides: suppliers and resellers. They are meant to work together in 'selling the goods' but yet seem to be opposed. For the supplier the MAP feels like a safety net, for the reseller it feels like a cage. Both parties do want to move forward but both have different priorities. If that happens in a marriage, or any other relationship, we all know; it's guaranteed to fail… But that's not all. There is actually a third party that is involved. The customer. He's not a part of the problem but obviously suffers from it
Let's look at how this problem comes to the surface, even in 2015.
Want to get started? Try Cart2Quote for free!
Your example; MAP's and resellers.
Let's say, you own a webshop and sell mainly to B2B customers, companies that sell these goods either in brick and mortar stores and/or online. Obviously you want to serve your customers with clarity, good service, great products and fair prices.
John is your potential customer. He is a retailer with a sports shop. John wants to buy 1.000 baseball caps from a certain brand that you sell. He goes online and visits your webshop. He wants to know your best possible price. Not just for 1 cap, but for the actual 1.000 caps.
Now, your supplier has told you, as their reseller, to stick to the MAP. This leaves you with basically three options for showing prices on your website:
Option 1: you only show the price for "1 baseball cap". If John wants to know the price for 1.000 caps he has to pick up the phone or send you an email to ask for a special quote. We all know, this is a threshold for customers.
Option 2: you show no price at all. John has to add the baseball cap to his cart before your webshop shows a price; the price for 1 cap. Same story here. If John wants to get your proposal he has to phone or email you. Not good.
Option 3: you show actual tier prices. Good for a start, however, because you're still bound by the MAP your lowest price is still too high for this B2B customer. Not good either.
Why does John have to look so hard to buy your products? Both your supplier and you as a reseller want to sell the products, right?
Who is to blame for this? The supplier or the reseller? Now as Phil Collins said, we always need to hear both sides of the story. So here we go.
You're a supplier? Here's your side of the story.
"If we would not use Minimum Advertised Prices I am sure that my resellers would advertise their lowest possible prices online. There are three problems with that:
low prices disrupt the market
low prices devalue my brand and products
low prices mean low margins, making it impossible for resellers to deliver service and guarantees

So to protect the investment of our high-quality dealers, and our brand reputation, we have to stick to the MAP. We tell our resellers the bottom price they can advertise and they have to stick to that. If not, they're out. It's law."

Quite frankly, this is understandable rhetoric. It makes sense for a supplier to value the market, their brand and their end-customers. Now, of course resellers are still free to make special one-on-one prices for their customers. But this has to be done through quotes via email, by phone or on paper. It may not be through advertised webshop prices or tiers.
This leaves the resellers with a problem.
You're a reseller? Here's your side of the story.
"We sell products online to B2B customers. We want to be able to serve them with great service, fast deliveries and of course great prices. Yet, our supplier does not allow us to show our best prices online. We have to stick with their so-called Minimum Advertised Prices. In a way we understand, but it's also annoying. How can we compete on a price level? That is what our customers look for. And of course, we can still offer better prices, but the supplier won't allow us to do that through our website. This means we have to send emails, answer phones, create and send custom proposals. After we have done that, we have to manually enter the customer's order in the backend of our website. In effect, it's much more work for less money. We really want to sell our supplier's products. We would just need a way to make it easier to stick to the MAP yet serve our customers with competetive prices."
Again, understandable rhetoric. When you're a reseller you need tools to sell. Custom prices (other than MAP) are undoubtedly a major tool to sell, also for webshops. But that seems impossible when suppliers want you to stick to MAP's. Or is it?
The better way. An online quotation extension for webshops.
It looks like a gap that can't be bridged. A supplier demanding MAP's, a reseller wanting to offer special (cheaper) prices. Luckily, there is a way resellers are now helped. Extensions like Cart2Quote enable webshop owners to:
stick to the supplier's MAP
offer customers a 'quote' option in their webshop
send custom quotes within seconds, through the webshop
Let's go back to the example of John and your webshop. How could you help him, and yourself, better?
Option 4: Your webshop shows the normal price for 1 cap. But next to the 'add to cart' button there is an 'add to quote' button. John wants a quote indeed, so he clicks the button. In your checkout he reads that he will receive a specified quote within minutes, all online. John fills out his details and the number of baseball caps he would like a quote for.
After John has clicked the 'send' button, you receive his request via email. In your webshop's backend you find John's quote request. Within seconds you fill out the correct prices and send John his quote. John receives your proposal via email. He's happy with the delivery time and price and clicks the 'order this' button in the email. Automatically he is redirected to your website. In the checkout page he finds his details, the correct quantity and quoted price, all pre-filled. All he has to do now is click 'confirm' and he is done. One happy customer.
But not only John is happy. Your supplier is too, because the Minimum Advertised Price was shown. And you are happy too because the quotation extension helped you to send a quote in minutes. All from the webshop platform. And you sold the products! Mission accomplished.
Conclusion
MAP's are here to stay. Suppliers need to protect the market, their brand and the end-users. Yet resellers, with the help of smart (Magento) webshop-extensions like Cart2Quote can still serve their customers with custom prices. That's a win for suppliers, a win for resellers and a win for the end-customer.