It goes without saying that selling to other businesses is a whole lot different from selling to consumers. In the eye of the beholder, B2B and B2C webshops share several functionalities, yet in fact many of them are distinctive. Start expanding your market position with the following features indispensableto modern and future-proof B2B webshops.
1. Segmentation visitors into customer groups
In B2B, personalization is critical to build a solid relationship and to increase sales value. Showing that you truly know the needs of your customers, puts you one step ahead of your competitors. If you want to improve your working practice and scale up your ventures, a certain amount of segmentation is required.
In Magento, one of the most implemented and renowned B2B e-commerce platforms currently on the market, it is possible to segment store visitors and showing different store views towards each of them. When you categorize your webshop visitors into separate special interest groups, such as 'retailer' and 'wholesaler', their shopping experience becomes far more personal, pleasant and significant. This sales-driven approach will greatly increase your profitability.
Once the store view adapts itself directly to the right type of customer, a large part of your work will be automated, thereby improving your transaction speed.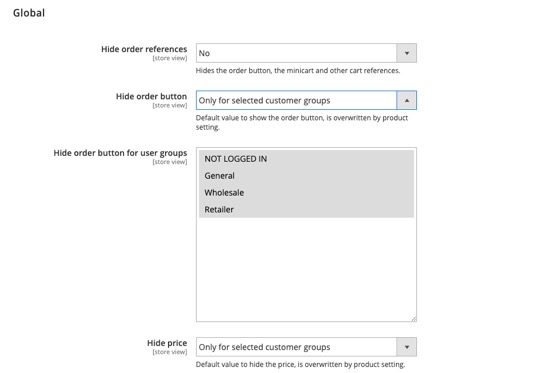 2. Minimum order requirements
Furthermore, among B2B companies it is a common practice to apply minimum order requirements for certain products or product groups. This is usually the case with low margin products with a high turnover rate, in order to stay profitable and to maintain a steady and healthy cashflow. A minimum order quantity (MOQ) feature, will inform the customer once the order quantity does not meet the requirements of closing a deal.
Many e-commerce platforms, like WooCommerce and OpenCart, require additional modules in order to use this feature. In others, such as Magento, this feature is already included.
3. Price visibility
Using adaptive pricing strategies along the lines of price visibility is another quite distinctive feature in B2B e-commerce. Sometimes it is just better to hide prices. This prevents unauthorized access to your pricing from non-registered visitors (among which might be your competitors), and alternatively, motivates new store visitors to register.
Another widespread practice of hiding prices is replacing prices with Call for Price or Request for Quote buttons. This strategy will open up the negotiation process and is particularly helpful when products or services need to be specifically configured or price setting depends on external factors.
Here you find out in more detail why customer group pricing strategies need a hiding prices feature.
4. User-friendly order preparation
Attracting new customers is vital, but the retention of existing is just as important. One way of doing so, is by implementing a user-friendly order preparation feature in case of repeat purchases. When customers purchase the same products or services from you on a regular basis, they value a quick order feature, especially when they are dealing in products with a high turnover rate. So, why not setting up the order details for their next purchase already?
Speed is a key component in e-commerce. Do not waste your customers' time by letting them re-enter the same items from a previous order over and over again. Rather offer a one-click reorder functionality in your B2B webshop that automatically fills in the order details for their next purchase, based on their previous ones. This will save you a lot of time and effort as well and your customers' loyalty towards you will grow at the same time. Win-win.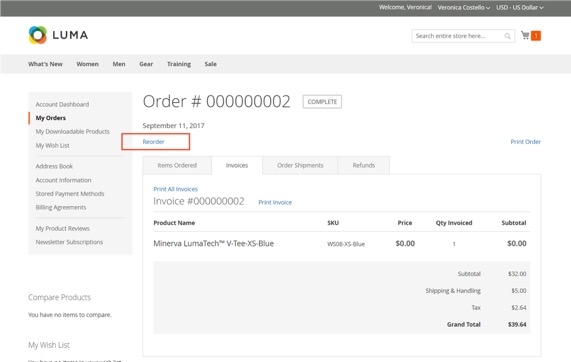 A webshop tailored to your needs
Running a B2B webshop starts with choosing the right e-commerce platform for your business. Due to its highly advanced pricing features and high-end themes, Magento is considered the most comprehensive and complete B2B e-commerce solution.
Cart2Quote, the most complete quotation manager for Magento, adds various customization options with regard to the use of buttons or quotation features. Cart2Quote's integrated Request for Quote feature makes it very convenient for both seller and buyer to get the best price with a minimum of time-consuming processes.
Discover here which features of Cart2Quote help skyrocketing your sales.